THE IMPORTANCE OF BRANDING
With the growing popularity of the privateer model of racing, an athlete's personal brand is becoming increasingly important. Without a team to provide support, the privateer is a self-sustaining entity that needs to attract the attention of corporate partners for financial and technical support.
Why the Privateer Model?
While a traditional cycling team provides many benefits, some athletes prefer racing under the Privateer Model, for several reasons. First, it offers the athlete control over who they want to support them; they can choose what bikes to ride, what components to run, what clothing to wear, and what nutrition to use, amongst other things. It allows the athlete to customize their own program to best fit their individual needs.
The downside to being a privateer is that all these partnerships have to be managed. Negotiations, contracts, terms, renewals, legal affairs, etc. This is where an agency like Inspire Athlete Management (IAM) comes in, taking care of nurturing these partner relationships so that the athlete can concentrate on performing as an athlete.
CASE STUDY: RUBY WEST
Ruby West is a Canadian multi-disciplined cyclist – one of the few who is on Canadian National Teams for Cyclocross, Track, and Road. This puts her in a unique place where a traditional cycling team doesn't make sense. Her diverse skills require specific support, so a tailor-made program put together by IAM was the best option.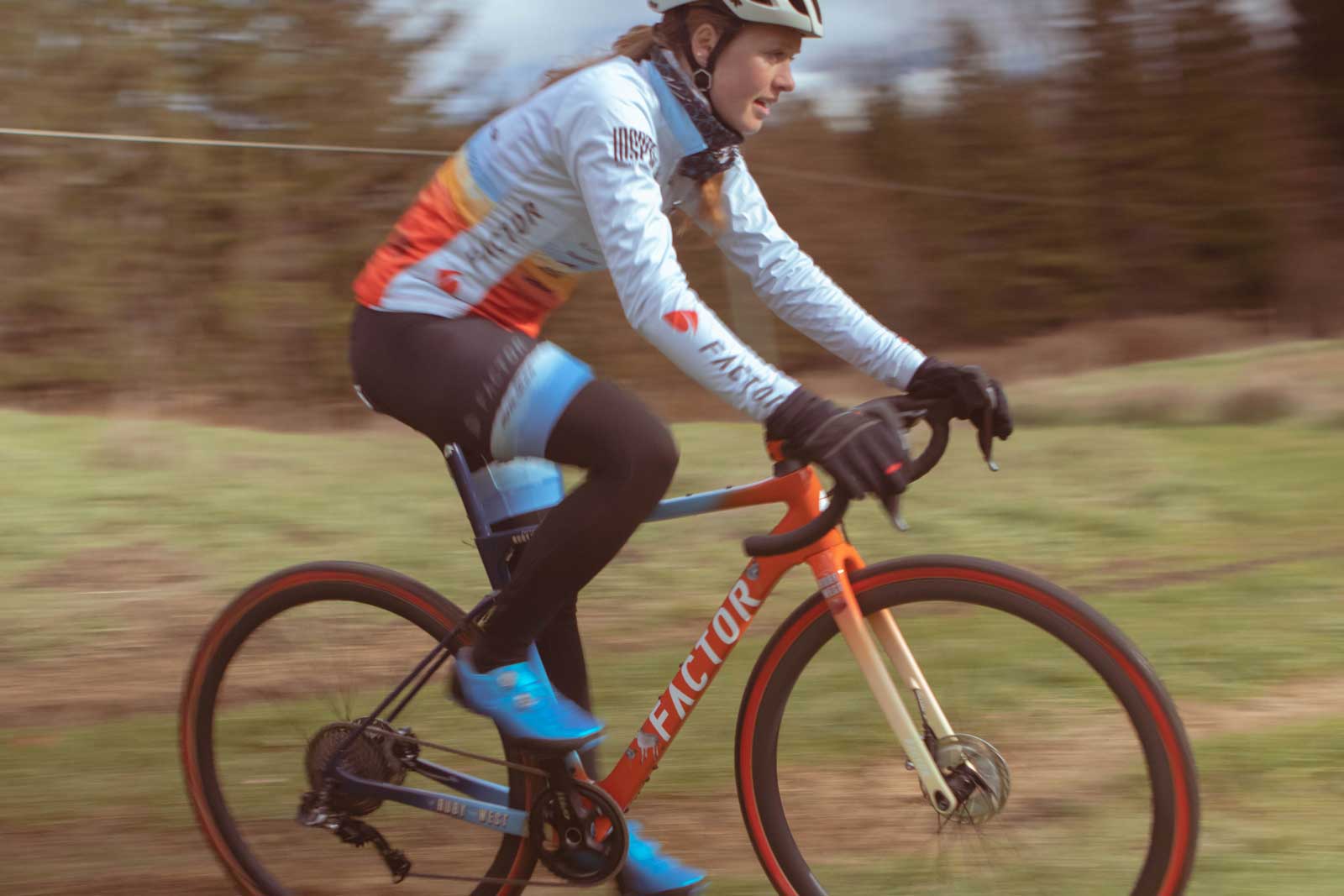 In order to put her best foot forward to prospective partners, Ruby enlisted the help of IAM Creative, Inspire Athlete Management's Creative Services division, to create a full suite of marketing materials.
Brand Identity
Kit Design
Custom Bike Paint
Content Creation
Sales Deck
Website Design
Promotional Photos
THE CHALLENGE
An athlete's branding has one main goal: to stand out from the crowd. What makes this athlete different from the rest? A well branded athlete is easily recognizable by the fans, and that is what gives them value in the eyes of sponsors.
Working with Michael and IAM creative has been a seamless and incredibly rewarding process. Incredibly professional and talented, Michael is able to make the thoughts and ideas in your head become a reality in designs, branding, websites and so much more, his eye for detail is unparalleled and the final product never ceases to amaze me. It is so cool working with someone so motivated but also accommodating, he really helped me create my dream team, kit, bike, website and promotional materials that truly couldn't represent me better.
Ruby West's name was an easy one to draw inspiration from. Two arrow-shaped logos facing left (West) represent the fast-moving direction she is known for. After initial talks with Ruby, we quickly found out that her life growing up and living on a farm is a big part of her identity. She shared with us some beautiful photos of farm sunsets, which was the inspiration behind the colour scheme.
An athlete's brand identity should strike a balance between two things: being true to the athlete's personal identity, and creating an exciting persona for their fans and sponsors. Creating a persona that is not true to the athlete's real-life personality is not authentic, and will quickly be apparent that the branding doesn't match the person when they appear in public.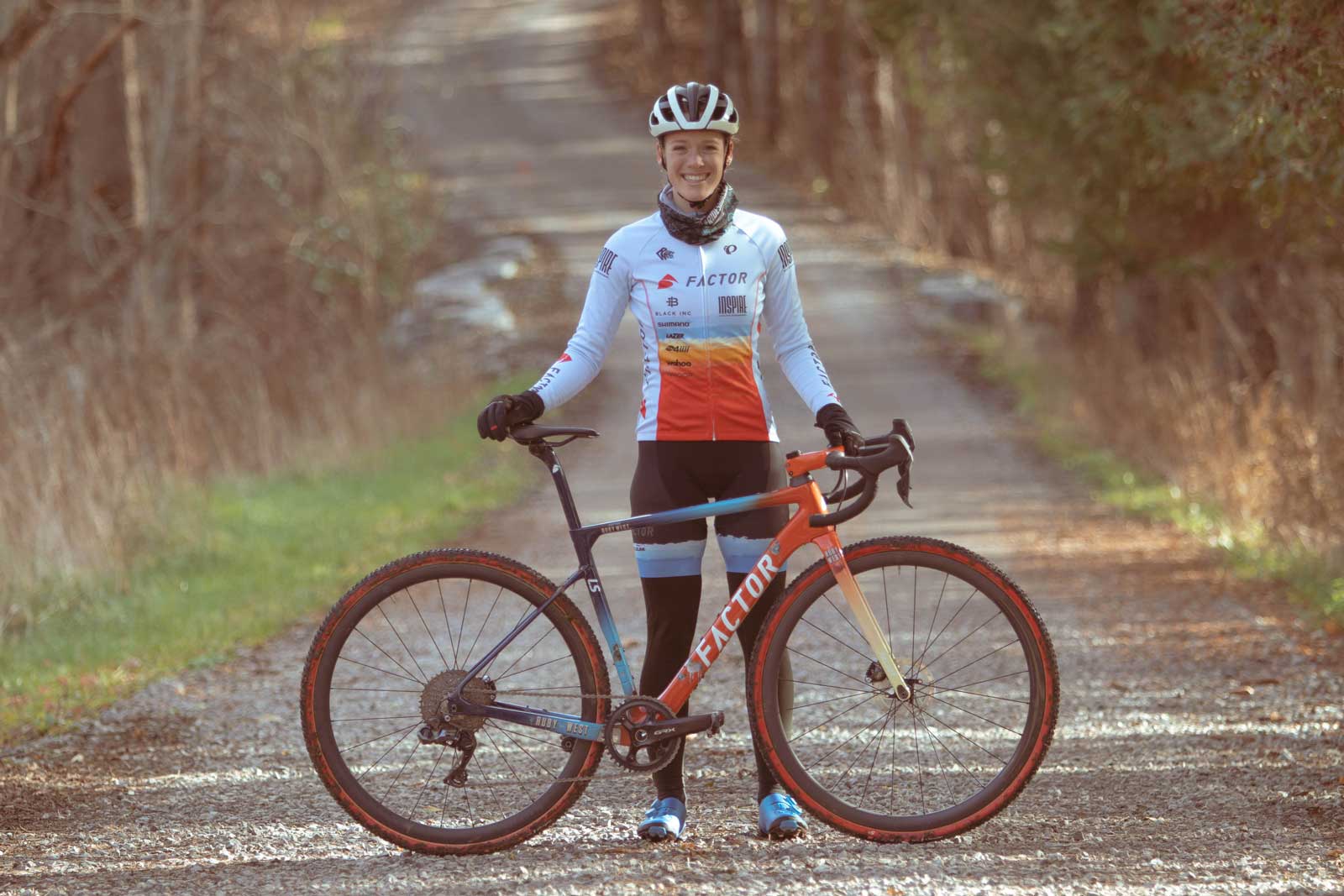 With the brand identity in place, IAM Creative designed a one-of-a-kind design for Ruby's Pearl Izumi kit, featuring her sunset farm colours. Factor Bikes ran with Ruby's branding to create a whimsical, yet eye-catching paint job for her custom LS cyclocross bike. It features hand-illustrated likenesses of Ruby's beloved farm animals on a striking sunset gradient background.
The blue and orange colour scheme makes the kit and bike stand out on the race course. Cyclocross races are typically dirt, grass, and mud, so these colours really pop when photographed. They were also chosen to allow her sponsor's logos to be displayed clearly and prominently.
While most athletes create the majority of their own content these days on social media, having the occasional professionally produced video or photoshoot is extremely valuable to boost partner relationships. Self-produced content is great for showcasing an athlete's personality and individuality, but seeing the athlete in a slick production highlights their professionalism, and can reinforce the idea that they are great ambassadors to the brands they represent.
IAM Creative produced this "Bike Check" video to showcase Ruby's new Factor LS bike. It was shot right on Ruby's farm, including a cyclocross training course that her dad built!
High quality, professionally shot photos are arguably the most important promotional materials. Afterall, most of the marketing materials in this article rely on them! IAM Creative had the opportunity to do a farm-themed photoshoot to show off Ruby's custom Factor LS bike. The theme tied in perfectly with Ruby's branding, as well as the farm details on her custom painted bike. A low contrast colour grading was chosen to give the shoot a rustic feel.
As important as social media is, there is still an important place for a website as a home for all their essential information. Race schedules, list of partners, career highlights, athlete bio, and contact information are readily available. There is also the opportunity to highlight new or relevant content, or drive traffic to other social media accounts.
While the sales deck is typically not viewed by the public, it is an essential tool to showcase the athlete, and close deals. A well built sales deck contains all the vital information about an athlete that sponsors want to see, wrapped up in a glossy package that stands out from the competition. It gives talking points to a sales pitch, and gives the prospective partner a concise package to refer to when considering the offer.
It is clear how important branding is for the privateer athlete. However, athletes on traditional cycling teams can also benefit from good personal branding, to set themselves apart from their teammates. Outside of a team's support, there are many opportunities for additional personal sponsors if the branding is right. An athlete's branding determines how they are perceived by the public. When a partner brand finds an athlete whose branding fits with theirs, then a mutually beneficial relationship is formed.
IAM Creative draws on its extensive experience in athlete management to help develop effective marketing tools, not only for their own athletes they represent, but to any athletes who want to take the next step in promoting themselves. For more information, please contact Michael Chan at michael@inspireathlete.com